Atonement
What a fabulous movie. Husband and I went to see it on Monday since he had the day off. I have a major thing for WWII movies and this one definitely did not disappoint.
I don't want to give too much away here but although the story was sad, the writing and acting were spectacular. Amazing. Keira Knightly and James McAvoy were fabulous. I highly recommend it.
Just make sure to bring your ID card since it's rated R. "Oh, I don't need to bring my ID Card," you say? What's that? You're in your mid twenties? Well so am I and
I got carded
. I haven't been carded to see a rated R movie in 10 years!
I'm sure it has everything to do with my new hairstyle (it's a fun, trendy cut with streaks of purple) but still, Joe made fun of me for the rest of the day.
Death by Socks
I finished my socks up on Saturday evening but had to wait until Tuesday to get them out in the mail. Here they are in all their super bright and cheery glory:
I know that self-striping yarn isn't for everyone, but I quite like them. I'm also pretty proud of how identical I was able to make them (one benefit or machine printed yarn).
Two days after I sent them off to my victim in Canada (stop laughing Cambria), I recieved my death socks in the mail:
Aren't they purdy? They are a merino, cashmere, nylon blend from
The Knittery
in the "Water Lilies" colorway. My assasin,
Bev
, did a great job and they fit great; which is no small feat (feat, get it? Phil would be proud.
Sassy
will not be) considering my feet are rather large and she wasn't able to try them on me until she sent them off. Thanks, Bev!
Knitty Surprise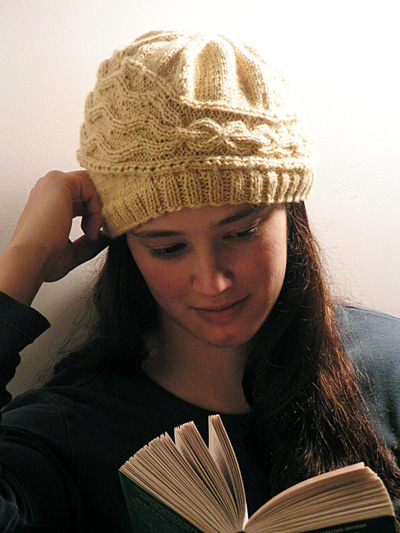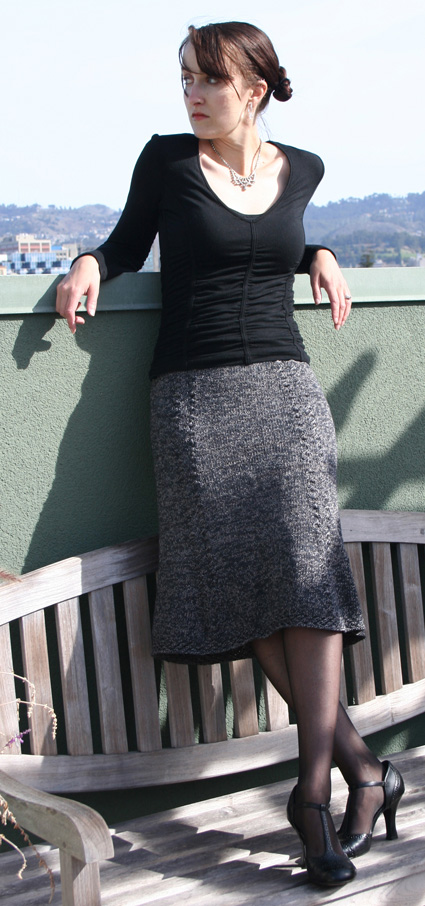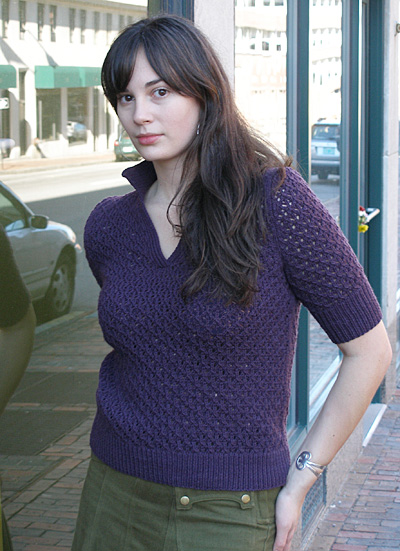 The Mid-Winter
Knitty Surprise
went live on Thursday. There have been times where knitty publishes patterns I just don't get (
Cleaves
anyone?) but
THIS PATTER
N
knocked my socks off. I. Must. Have. It. In fact I went and bought the yarn for it yesterday (shhh. Don't tell Husband). I'm trying to decide if I should start it today or wait until my
drops jacket
is done. I'm leaning toward starting it b/c I think it may go faster than the jacket (which seems to be coming along oh-so-slowly)

Why I love being a Pampered Chef Consultant: Reason #75
Free stuff! I earned some of the new Spring Products for free for my sales in November and they arrived on Thursday as well. Hooray! I think that may be one of my favorite things about doing Pampered Chef...I have literally hundreds of dollars of super high quality kitchen products that I earned FOR FREE. Nice.
Adventures in Crochetlandia
While I learned how to crochet when I was about 12 or so, I never really did too much with it beyond scarves and either edgings or embelishments for my knitted items. I found this pattern while cruising around on Ravelry yesterday, though, and decided they would be perfect for a certain someone's birthday coming up today. So I went in search of fun, tropical, summery colors and created a whole flip flop wardrobe for her wine (or martini) glasses.

I'm not normally one to knit or crochet coasters (because once you start making coasters, the next thing you know, you're knitting toilet paper cozies and airfreshener dolls) but I really like these so I hope she does, too.