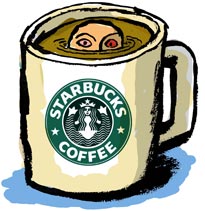 This morning Husband and I woke up late (again). Yesterday was not a good day for me so the last thing I needed was another day of tired, cranky, hungry, uncaffeinated Carissa.
Sadly the train station Husband had to go to this morning was not the one conveniently located by a coffee shop (well, it is kind of by Atomic Cafe...but they don't take credit cards).

Lucky for me, if you text message your zip code to MYSBUX, you will be instantly sent the addresses of the three closest Starbucks to you. I had done this yesterday out of curiosity and so had an address of a Starbucks in Salem which I did not know existed and so this morning on my way to work, I paid homage to the great espresso bean and got myself a marvelous Grande, 1 1/2 pumps raspberry, 3 pumps Sugar Free Vanilla, 2%, Extra Foam Latte and a Blueberry Scone. :-)

Mmmmmmm. Heaven. Its funny how a simple thing like a well-made latte really makes me feel SO much better (and much less likely to bite off the heads of co-workers).
In other news, I made the coolest thing for my PRGE pal last night. I'd tell you all about it, but then it wouldn't be very much of a secret now would it? I think I'm allowed to reveal my identity in April.....so I'll have to save up all my cool stuff to show off for then.